Welcome to DemoBaseST - an easily-accessible Windows compilation of Atari ST demoscreens. No longer do you need to search through disc images and menus to get to your favourite demos, because each one is directly accessible from the DemoBaseST menu, and is accompanied by screenshots and search and filter functionality to help you get to your favourites! What's more, you don't even need to download any disc images or spend time setting up emulators - it's all included and ready to go!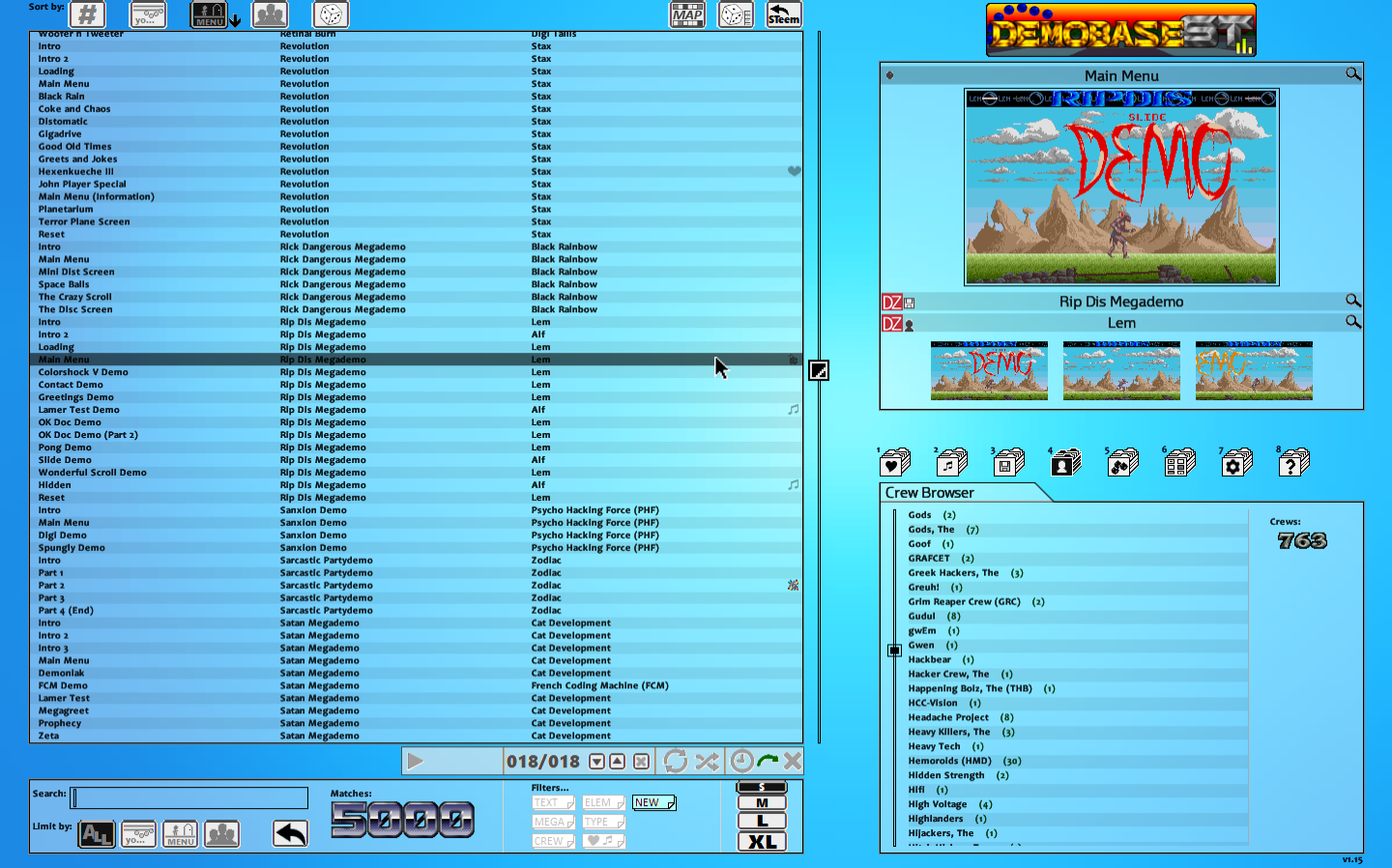 * One double-click launches you straight into a demo - no disc images required, and no searching through main menus.

* Emulator settings and correct TOS version are all handled automatically.

* Over 4,800 demos and over 300 megademos in the library, with more added through free updates.

* Over 16,000 screenshots to help you find your favourite screens.

* Intros, Loading screens, Main Menus, Hidden screens, Reset screens and even Disk Swap screens are also included.

* Use the Elements feature to search for screens which have up to 30 different elements, such as starfields, no borders, VU meters, tracker music, plasma, digidrums, docdots, music collections...

* Play slideshows of each screen in any megademo of your choice, or all screens by a particular crew, or any screens at random.

* Highlight your favourite demoscreens.

* Play the music from any demo while you are browsing the archive, or add them to a jukebox feature.

* Web-updatable for new features and demoscreens.

* Totally free! No adverts. No cookies. No sign-ups. No accounts.


Download DemoBaseST
0.99gb self-extracting archive. DBST requires Windows 7+ and .NET 4.7.1 or greater.
Please install to a folder structure with 40 or fewer characters in total.
Only required if you are currently using DBST v1.03.